NAMM 2021 (aka Believe in Music Week) wasn't quite the same given the ongoing pandemic, but that didn't stop plenty of great brands from rolling out killer gear! While there was certainly a lot to see, we've picked some of our favorite pieces of gear from this year's show.
You can't always crank the volume, no matter how many Boris riffs you just learned. Your neighbors are still going to hate you. Thanks to the Fender Mustang Micro Headphone Amp, you can avoid that hate and still have a great time playing. The Fender Mustang Micro Headphone Amp allows you to plug in your headphones and play, record, and even plug into an amp for a show. The amp features 12 onboard amps, 13 effects, Bluetooth, and USB, making it pretty much impossible not to be useful. Now go forth and crank those Boris riffs, but directly into your owns and nobody else's.
Ibanez rolled out their new line of guitars this year, and one caught our eye. Mainly because of that killer reverse headstock, but then the rest ended up being pretty great too. The new Prestige RGDR4427FX 7-string features a richlite/ash body, Wizard 7 5-piece maple/wenge neck with a bound Macassar ebony fingerboard, a pair of Fusion Edge 7 humbucking pickups, and Mono-rail bridge rounds for that extra articulation. If you're looking to bring the heaviness and maybe get in on the new wave of modern death metal, look no further than the RGDR4427FX.
There's never going to be another Eddie Van Halen, but that doesn't mean his legacy shouldn't inspire you to try and do something great. The brand new EVH Wolfgang Special QM was approved by Eddie himself and features a beautiful quilted-maple top, two EVH humbuckers, Floyd Rose locking tremolo, and a lifetime warranty to beat the everloving hell out of it. Frankenstrat mods not included, but with a paint job and neck like the one on the EVH Wolfgang Special QM, do you really want to mess with perfection?
Not everything needs to be super expensive. Maybe you're just looking for a solid guitar that forgoes all the bells and whistles for a stripped down, no-nonsense classic rock feel. Which is exactly what the Epiphone Nancy Wilson Fanatic Outfit is going to give you. Based on the classic Epiphone Nighthawk body, the Nancy Wilson provides a 25.5-inch scale, coil-tappable humbuckers, and angular single-cutaway body that'll give you that smooth, smooth Heart sound. Plus, Epiphone Nighthawks have always been cool and this is yet another testament to that particular shape.
Just because someone nailed a fuzz pedal doesn't meant you might not want to make some adjustments along the way. Which is exactly where the Jackson Audio FUZZ Modular Fuzz Pedal comes in. The Jackson Audio FUZZ Modular Fuzz Pedal provides a powerful 3-band, fully parametric EQ and a built-in octave effect for all your grit-related needs, with the added bonus of featuring a Jackson Audio's modular, analog plug-in design, enabling you to replace the pedal's fuzz circuit. Now you'll have no excuse for not getting the exact tone you want… so maybe only pick this up if personal responsibility is your thing.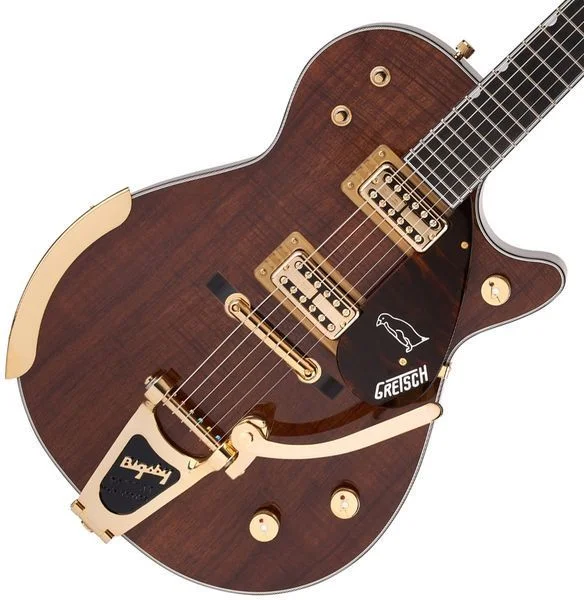 It's impossible to look at a Gretsch guitar and hate the way it looks. You just can't do it, especially with the new G6134T. The G6134T features a solid koa top, gold hardware, and matching armrest, a set of TV Jones TV Classic humbuckers, and a a Bigsby B6CP tailpiece. But really, just look at that matching hardware with the wood choice. I'm not even sure you need to play a single note with this thing for people to take notice.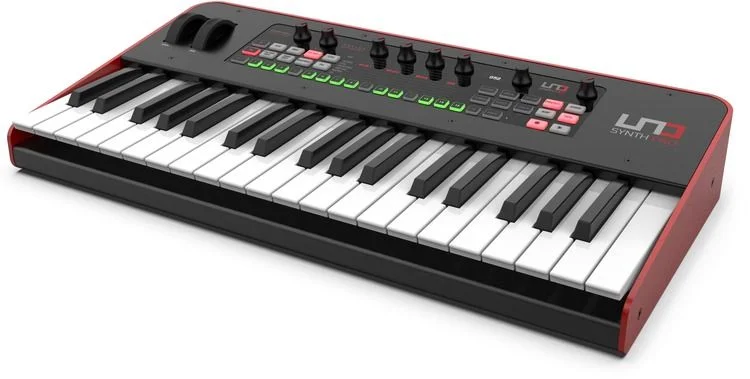 Despite expanding the UNO synth, IK Multimedia has still named the new version the UNO. I'd say they're clearly afraid of bigger numbers, but with the 37 keys on the new IK Multimedia UNO Synth Pro, that's clearly not the case. The IK Multimedia UNO Synth Pro has paraphonic capabilities, a third oscillator, a second multimode filter, a 64-step sequencer, expansive modulation, and a formidable digital effects engine. Perfect for your bedroom djent project, making beats, or just adding some additional layers to your Blood Incantation worship space death metal band's newest demo.
Somewhere between a PRS and a kickass 80s metal guitar you might find on Reverb comes the new PRS line of guitars, the Fiore. The series was designed alongside Mark Lettieri of Snarky Puppy and features a swamp ash body, maple neck and fingerboard, and custom-designed HSS pickups. You will inherit exactly zero of Mark's talent upon picking up the guitar, but you'll sure as hell have every reason to not put it down. The Fiore series is available in Amaryllis, Black Iris, and Sugar Moon.
Speaking of 80s shred guitars, that's exactly what Charvel is doing very much on purpose. Charvel is unveiling its brand new MJ DK24 HSH 2PT guitar, meant to revive the brand's classic Made in Japan look and quality. The MJ DK24 HSH 2PT features a walnut-topped mahogany body, a wenge Speed Profile neck for maximum shred capabilities, and a set of HSH-configured Seymour Duncan pickups. Now all you need is a can of Aquanet and some spandex, and you're reay to hit the Sunset Strip.
We started this list with Ibanez and we're ending it with Ibanez, dammit! Plus we needed to give the bassists out there some love, and what better way to do that than with the brand new Ibanez Premium SR1305SB? Aside from looking stunning with its contoured African mahogany body and ash/panga panga top, the new Ibanez Premium SR1305SB features a 5-piece panga panga/purpleheart neck and a bound panga panga fingerboard, aggressive Nordstrand Big Break pickups, and (much like the Ibanez Prestige RGDR4427FX) Mono-rail bridge rounds on the bridge. Though let's be honest – I'm not sure Ibanez have ever missed with their Soundgear series.
So, what were YOUR favorites?